Research article

Open Access

Open Peer Review
This article has Open Peer Review reports available.
Volunteering in the care of people with severe mental illness: a systematic review
Received: 9 August 2012
Accepted: 11 December 2012
Published: 13 December 2012
Abstract
Background
Much of the literature to date concerning public attitudes towards people with severe mental illness (SMI) has focused on negative stereotypes and discriminatory behaviour. However, there also exists a tradition of volunteering with these people, implying a more positive attitude. Groups with positive attitudes and behaviours towards people with SMI have received relatively little attention in research. They merit further attention, as evidence on characteristics and experiences of volunteers may help to promote volunteering. The present paper aims to systematically review the literature reporting characteristics, motivations, experiences, and benefits of volunteers in the care of people with SMI.
Methods
In November 2010, a systematic electronic search was carried out in BNI, CINAHL, Embase, Medline, PsycINFO, Cochrane Registers and Web of Science databases, using a combination of 'volunteer', 'mental health' and 'outcome' search terms. A secondary hand search was performed in relevant psychiatric journals, grey literature and references.
Results
14 papers met the inclusion criteria for the review, with data on a total of 540 volunteers. The results suggest that volunteers are a mostly female, but otherwise heterogeneous group. Motivations for volunteering are a combination of what they can 'give' to others and what they can 'get' for themselves. Overall volunteers report positive experiences. The main benefit to persons with a psychiatric illness is the gaining of a companion, who is non-stigmatizing and proactive in increasing their social-community involvement.
Conclusions
The evidence base for volunteers in care of people with SMI is small and inconsistent. However there are potential implications for both current and future volunteering programmes from the data. As the data suggests that there is no 'typical' volunteer, volunteering programmes should recruit individuals from a variety of backgrounds. The act of volunteering can not only benefit people with SMI, but also the volunteers. Further research may specify methods of recruiting, training, supervising and using volunteers to maximise the benefit for all involved.
Keywords
Volunteering
Severe mental illness (SMI)
Social support
Background
Much of the literature to date concerning public attitudes towards people with a mental illness has focused on negative stereotypes and discriminatory behaviour [1–5]. There have been reports of landlords refusing to lease properties to people with a mental illness [6–8], and employees withholding job opportunities [6, 7, 9]. Such social distance behaviours reflect the mental health illiteracy that exists amongst the general public [10]. Public beliefs about the causes and presentations of mental illness are so often misinformed and misunderstood, that the challenge is to find ways of improving public knowledge in order to produce effective behaviour change [11–13].
Angermeyer & Dietrich (2006) conducted a review examining public attitudes towards persons with a psychiatric illness. Although their conclusions state there is still an observable tendency for people to distance themselves from individuals with a mental disorder, and that there is still a perception of people with a mental illness as 'unpredictable and dangerous', they allude to a substantial cohort of the public who hold 'positive attitudes' and demonstrate 'pro-social behaviour'. Yet, groups with positive attitudes and behaviours towards people with mental illness have received relatively little attention in research.
One group in which positive attitudes are implicit are volunteers in mental health care [14, 15]. Volunteering England, an independent charity committed to supporting volunteering defines 'volunteering' as 'any activity that involves spending time, unpaid, doing something that aims to benefit the environment or someone (individuals or groups) other than, or in addition to, close relatives' [16]. In 2010 it was estimated that 25% of the adult population in the United Kingdom (UK) volunteered formally at least once a month in the preceding 12 months [17]. About 3.4 million people have been estimated to volunteer in the UK Health Sector alone [18]. In the context of mental health care, volunteers are members of the public who intentionally seek out contact with and provide care to individuals with a mental illness. One type of one-to-one volunteering activity is 'befriending.' Befriending contact involves joint social and recreational activities, such as visiting sites of interest, sharing meals or playing sport. The relationship is typically initiated, supported and monitored by an agency that has defined one or more parties as likely to benefit. Ideally the relationship is non-judgemental, mutual, and purposeful, and there is commitment over time [19]. Exact figures on the numbers of volunteers in mental health care worldwide are difficult to obtain, but they are substantial as examples from the localities of the authors of this review demonstrate. In the Austrian region of Styria with a population of 1.2 million, one voluntary organisation alone has 298 volunteers who work directly with people with mental illnesses (Leitner P. Chief Executive of voluntary organisation 'Pro Humanis', personal communication). A Trust providing mental health services within the National Health Service in East London (population 750,000) recruited 250 new volunteers within their first seven months of operation (Lacey A. Volunteer Coordinator, East London NHS Foundation Trust, personal communication). Given the overall negative attitudes towards people with mental illness in the general public, the question arises as to what is distinct about mental health volunteers. They might hold pre-existing positive attitudes towards people with a mental illness or perhaps lack stigmatizing views all together.
There is also a practical interest in research evidence on volunteering. Although volunteers can still generate costs to services, e.g. for training and supervision, by definition they do not draw a salary and are a relatively inexpensive resource to deliver some aspects of care. Having said this, due care must be taken when involving volunteers in mental health services, so that they are not exploited or used as a means to 'undercut on cost by substituting for pre-existing paid jobs or carrying out tasks that, by law, require clinical or professional training' [20] as noted by a recent UK Department of Health report. Volunteers may provide people with a psychiatric illness with an experience that is distinct from and more 'normal' than their regular contacts with mental health professionals, and in this way help to facilitate their social inclusion.
This article presents an integration of available evidence on (i) the characteristics of volunteers in mental health care, (ii) their reasons for volunteering (iii) their experiences, and (iv) the benefit of volunteering schemes for people with a mental illness. These components were selected for study as we felt that they would be of most interest to volunteer organizations when thinking about recruiting and making best use volunteers.
Methods
In November 2010, a systematic search of the literature was conducted using online databases, relevant psychiatric journals and grey literature.
For the electronic search, three lists of search terms were created:
a)

'volunteer descriptors', including: volunteer, lay helper, befriender, voluntary/informal caregiver, paraprofessional, nonprofessional, psychosocial support, intentional friendship, naturalistic contact, community support, and citizen/civic participation;

b)

'mental health descriptors', including: severe mental illness, schizophrenia, psychosis, psychotic symptoms, mental disorder, mental health charity, mental health project, mental health programme, psychiatric scheme, and psychiatric organisation;

c)

'outcome descriptors', including: motivation, reason, opinion, attitude, experience, reward, and challenge.
The full lists of terms can be obtained from the authors.
Search strategy and selection criteria
Search terms were combined and used to search the following online databases: BNI, CINAHL, Embase, Medline, PsycINFO, Cochrane Registers, Web of Science and Google Scholar. Each database was searched from its inception through to November 2010, with no language restrictions. In addition, hand searches of the following psychiatric journals were carried out: American Journal of Psychiatry, Annals of General Psychiatry, Archives of General Psychiatry, International Journal of Social Psychiatry, British Journal of Psychiatry, The Psychiatrist, and Schizophrenia Bulletin. Due to the specificity of the research topic, grey literature was identified through electronic searches of SIGLE (System for Information on Grey Literature) and The British Library Catalogue. This prompted hand searches of charity reports, information packs, case reports and published undergraduate/PhD dissertations. References from bibliographies of identified articles were analysed and relevant citations were selected for review. Frequently cited authors were contacted for expert information and literature recommendations.
Titles and abstracts were inspected to identify relevant reviews. A second independent researcher was allocated a random selection (20%) of abstracts for screening to determine inclusion. After agreements on ambiguous texts were reached, full texts of potentially relevant papers were obtained. Texts were retained if they met the following criteria: (i) participants were unpaid lay/nonprofessional volunteers; (ii) the volunteer activity was a regular commitment (e.g. not a 'one-off') with an adult mental health populationa; (iii) the volunteering activity involved face-to-face contact and provided direct care. Texts were excluded if: (i) volunteers were family members, paid carers, paid lay workers, mental health professionals or already known friends; (ii) the volunteering activity was not specific to a mental health population (e.g. HIV/AIDS/asylum seeker/general hospital volunteering); (iii) the volunteering involved no direct face-to-face care (e.g. telephone helpline/online volunteering); (iv) volunteering was part of a course requirement; (v) the volunteering was a one-off activity (e.g. helping after a natural disaster); (vi) or the literature was inappropriate extraction material (e.g. a review paper or charity advertising booklet). Identified final texts were examined independently by two reviewers (CH, SP) to confirm inclusion.
Data collection and extraction
Data were extracted independently by two reviewers (CH, GK), with a third reviewer adjudicating in the event of disagreement (CL). The extraction instrument allowed both qualitative and quantitative documentation of the study, including; study details (author, title, year, country, study setting, aims, methods, recruitment to study); volunteer socio-demographics (number, age, gender, education level, employment status, religion, ethnicity, relationship status, living arrangements); and volunteer characteristics (motivations; previous experience in mental health volunteering; previous connection to organisation; previous service user; volunteer role; volunteer activities; length of commitment; positive and negative experiences). Additional information was collected about the volunteer organisation (type of organisation; philosophy/aims of organisation; client group supported; benefits to persons with a mental illness; method of volunteer recruitment; volunteer selection criteria; matching process; volunteer training/support provision). Direct quotes from volunteers and persons with a mental illness were also extracted from papers, and these were reproduced in our results section to illustrate our findings.
Results
Figure 
1
shows a QUORUM diagram with the results of the literature search and the selection of papers. In total, 14 papers were included in the review.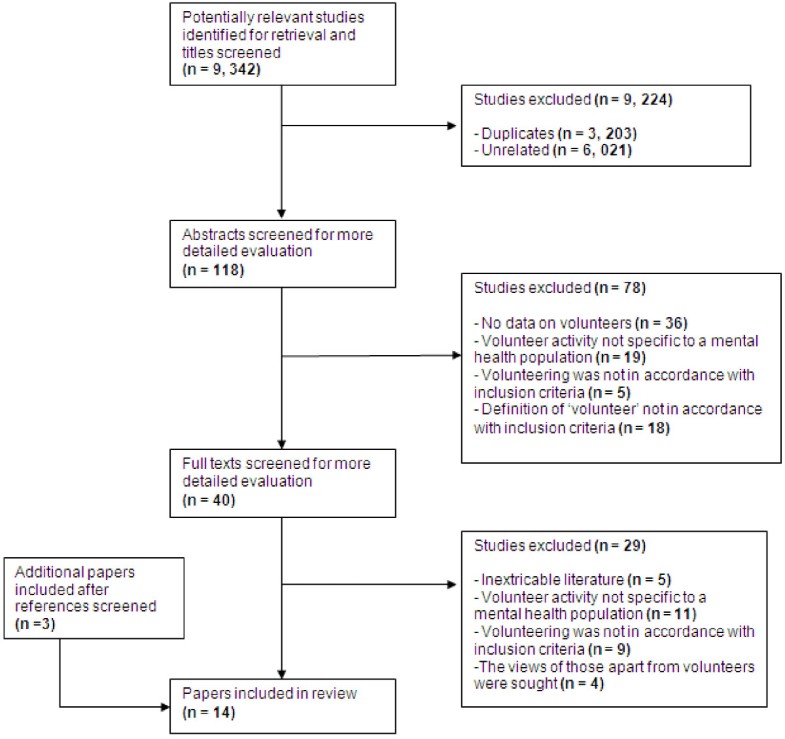 Discussion
The review collated data on 540 volunteers reported in 14 papers. Only a few socio-demographic characteristics have been reported and we know little, for example, about the educational background and personal histories of volunteers. However, our results show that volunteers are an array of ages, a mix of genders (although slightly more females), have mixed employment status, marital status and a mix of previous own experience of mental illness. The majority of people are not in full time employment or are retired, which may help explain their ability to dedicate time to volunteering. The role of previous own mental health experience in influencing propensity to volunteer is unclear, but having a personal history does seem to be valued by some service users.
Motivations for volunteering can be grouped according to categories of 'getting' such as curiosity and 'giving' such as philanthropy and social responsibility. Overall, volunteers report positive experiences. People with a psychiatric illness benefit from having a volunteer by gaining a close companion from outside of their immediate circle, who does not stigmatize them, and helps to facilitate their social-community reintegration.
Strengths
The review used a systematic approach to collate all published literature to date on the mental health volunteer population. It brought together a disparate literature, included papers in different languages (English & German), from across four different countries (Germany, Switzerland, England & USA) and highlighted that similarities exist across countries between mental health volunteers in terms of socio-demographics, motivations and experience.
Limitations
Due to the disparate literature base, there was an increased risk of missing relevant papers using traditional search methods.
The review collated data on 540 volunteers which, despite being a substantial number, probably reflects only a tiny proportion of all volunteers in various programmes across the world. Indeed, only 14 relevant papers were found in our search, most of which provided poor information, with the bulk of the qualitative data provided by two papers [27, 29]. In addition, there may exist a potential sampling bias in the methodology of some of the papers we reviewed. One paper reported that 'participants in poorly functioning matches were not interviewed' [29] suggesting that only volunteers reporting positive experiences were included. Volunteers with more negative experiences may have been purposefully excluded from other papers we reviewed or may have been unavailable for interview due to earlier drop out from the service. This would have implications for our conclusion that volunteers report overall positive experiences.
Another limitation was the lack of available information on patients' diagnoses.
Finally, the information on the context of the volunteering schemes was scarce. The organisational context is likely to influence who volunteers. For instance, the befriending service in Hastings, (UK) 'arose in response to an unmet mental health need within the local community' recognised by local church parishioners in a town with high levels of deprivation [24]. Volunteers for this service were local Hastings residents who responded to an advertising campaign. In contrast, the befriending scheme based within the psychiatric rehabilitation service in Leicester (UK) was set up in response to 'increased requests from undergraduates and graduates enquiring about shadowing or unpaid placements in order to gain experience for clinical training', and subsequently all volunteers held an undergraduate psychology degree [25].
Comparison with the literature
Few of our findings are unique to volunteers in mental health care. Volunteers have been shown to be a heterogeneous group in other organisations e.g. AIDS volunteers [36], and the motivations reported in this review are consistent with theoretical models of general volunteer motivation [35, 37–39]. The most widely used model of volunteer motivation is the Volunteer Functions Inventory (VFI) [37] which identifies six functions relevant to volunteering: (1) developing and enhancing one's career (career); (2) enhancing and enriching personal development (esteem); (3) conforming to the norms of, or establishing norms for, significant others (social); (4) escaping from negative feelings (protective); (5) learning new skills and practicing underutilized abilities (understanding); and (6) expressing values related to altruistic beliefs (value). Although we chose to categorise motivations according to the 'getting' and 'giving' dimension of the Octagon model [35], they could equally have been categorised according to the VFI criteria.
Conclusions
The findings in this review have implications for the literature on lay attitudes towards people with severe mental illness. Whilst much of research has portrayed the public as those who hold negative stigmatizing beliefs, our findings present an alternative. We have identified members of the general public who regularly and voluntarily spend extensive periods of time with people with a psychiatric illness and report largely positive experiences in doing so. Future recruiters should target potential volunteers from a variety of backgrounds, as our collation of the literature suggests there is no 'typical' mental health volunteer.
We also found benefits of volunteer programmes for both clients and volunteers. Not only do people with a mental illness enjoy the novel companionship of volunteers, but they may also improve their social contacts and social inclusion as a result of continued volunteer support. Similarly, volunteers with little previous exposure to individuals with severe mental illness find themselves challenging their previous stigmatising assumptions. Such exposure for lay members of the public has potential implications for the reduction of stigma amongst the general public.
Given these possible benefits and the fact that volunteers are a relatively inexpensive resource, there is a need for specific research evidence on the best ways to implement volunteers in mental health services. There should be an interest in promoting volunteering and in designing programmes that are of specific benefit to both volunteers and people with a severe mental illness. For example, programmes would benefit from specific research on the best ways to recruit, train, support, and make use of volunteers within both inpatient and outpatient settings, without taking advantage of their freely provided time. Ultimately what is likely to be of most benefit is for future research to propose an integrative model of volunteering with clear theoretical and practical implications to persons with psychiatric illness, service providers, policy makers and other stakeholders in the field.
The findings may be particularly important in light of the funding cuts for mental health services that have occurred or are planned in many countries. Policies commonly emphasise that volunteers are no substitute to paid professionals. If this can be guaranteed, one may agree with the statement that 'there is untapped (volunteering) potential within our communities that we cannot afford to ignore [20].'
Endnotes
aThe term 'adult mental health population' was used as an inclusive terminology and not a precise definition.
Authors' information
At the time of submission, CH was affiliated with Queen Mary University of London. However as of 1st October 2012 she will be affiliated with King's College London. For future correspondence, please email: claudia.hallett@kings.ac.uk.
Authors' Affiliations
(1)
Academic Unit for Social and Community Psychiatry, Barts & the London School of Medicine and Dentistry, Queen Mary University of London, Newham Centre for Mental Health, London, UK
(2)
Psychosocial Services, Society of Mental Health Promotion, PSD Graz East, Graz, Austria
(3)
Department of Psychiatry, University of Liverpool, Liverpool, UK
Copyright
© Hallett et al.; licensee BioMed Central Ltd. 2012
This article is published under license to BioMed Central Ltd. This is an Open Access article distributed under the terms of the Creative Commons Attribution License (http://creativecommons.org/licenses/by/2.0), which permits unrestricted use, distribution, and reproduction in any medium, provided the original work is properly cited.