Study protocol

Open Access

Open Peer Review
This article has Open Peer Review reports available.
A familial risk enriched cohort as a platform for testing early interventions to prevent severe mental illness
Received: 6 October 2014
Accepted: 19 November 2014
Published: 2 December 2014
Abstract
Background
Severe mental illness (SMI), including schizophrenia, bipolar disorder and severe depression, is responsible for a substantial proportion of disability in the population. This article describes the aims and design of a research study that takes a novel approach to targeted prevention of SMI. It is based on the rationale that early developmental antecedents to SMI are likely to be more malleable than fully developed mood or psychotic disorders and that low-risk interventions targeting antecedents may reduce the risk of SMI.
Methods/Design
Families Overcoming Risks and Building Opportunities for Well-being (FORBOW) is an accelerated cohort study that includes a large proportion of offspring of parents with SMI and embeds intervention trials in a cohort multiple randomized controlled trial (cmRCT) design. Antecedents are conditions of the individual that are distressing but not severely impairing, predict SMI with moderate-to-large effect sizes and precede the onset of SMI by at least several years. FORBOW focuses on the following antecedents: affective lability, anxiety, psychotic-like experiences, basic symptoms, sleep problems, somatic symptoms, cannabis use and cognitive delay. Enrolment of offspring over a broad age range (0 to 21 years) will allow researchers to draw conclusions on a longer developmental period from a study of shorter duration. Annual assessments cover a full range of psychopathology, cognitive abilities, eligibility criteria for interventions and outcomes. Pre-emptive early interventions (PEI) will include skill training for parents of younger children and courses in emotional well-being skills based on cognitive behavioural therapy for older children and youth. A sample enriched for familial risk of SMI will enhance statistical power for testing the efficacy of PEI.
Discussion
FORBOW offers a platform for efficient and unbiased testing of interventions selected according to best available evidence. Since few differences exist between familial and 'sporadic' SMI, the same interventions are likely to be effective in the general population. Comparison of short-term efficacy of PEI on antecedents and the long term efficacy for preventing the onset of SMI will provide an experimental test of the etiological role of antecedents in the development of SMI.
Keywords
Severe mental illness
Schizophrenia
Bipolar disorder
Major depressive disorder
Cohort study
High-risk offspring
Targeted prevention
Early interventions
Background
Severe mental illness (SMI), including schizophrenia, bipolar disorder and severe depression, is responsible for a substantial proportion of disability in the population. Current treatments may ameliorate the course of SMI, but do not provide a cure. Therefore, prevention of SMI is a public health priority. To date, early interventions have focussed on the prodromal stage shortly preceding the onset of SMI [1]. These interventions have had some notable successes, including halving the short-term risk of developing SMI with a purely psychological approach [2]. However, relatively poor long-term functional outcomes [3] suggest that interventions in the prodromal stage may come too late to normalize the developmental trajectory. Therefore, pre-emptive early interventions (PEI) at earlier stages of development may need to be considered [4]. Because the familial and environmental risk factors for mood and psychotic disorders largely overlap [5],[6] and because early antecedents are less specific than prodrome [7], PEI may need to focus on broader categories, such as SMI, rather than a specific diagnosis.
PEI can be informed by what is known about SMI. First, SMI runs in families and the risk varies with the degree of biological relatedness to an affected individual. The familial risk is partly diagnostically specific: a son or daughter of a parent with schizophrenia will have approximately eight-fold increased risk of developing schizophrenia, but also a two-fold increased risk of developing bipolar disorder or depression [8]. Overall, one in three offspring of parents with SMI will develop a major mood or psychotic disorder by early adulthood [8]. Molecular genetic variants also largely overlap between mood and psychotic disorders [6],[9],[10]. Second, SMI may be more predictable than previously thought. Longitudinal studies of representative population cohorts suggest that most cases of SMI are preceded by earlier antecedents. Antecedents including delays in cognitive development, affective lability, anxiety, sleep problems, psychotic-like experiences and basic symptoms are detectable in childhood or adolescence, and predict the onset of SMI 4 to 15 years later with substantial effect sizes [11]-[15]. This means that many cases of SMI can be predicted before the prodromal stage to enable targeted PEI. Third, the genetic and neurodevelopmental risk factors for SMI are malleable [16],[17]. A Finnish adoption study found that high quality parenting reduced the risk of psychosis in adopted offspring of biological mothers with schizophrenia to a level comparable to adoptees from mothers with no mental illness [18]. Longitudinal neuroimaging studies show brain abnormalities in individuals at familial risk at age 6-to-14 years that normalize by age 17 in those who do not develop early onset SMI but persist in those affected with SMI [19],[20]. Taken together, these three areas of knowledge indicate that the risk of SMI is measurable and modifiable in childhood and adolescence.
We propose that antecedents in combination with family history of SMI present an opportunity for developing and testing PEI at earlier stages of development than current 'early interventions'. The use of a sample enriched for family history of SMI will increase statistical power for testing interventions' effects on SMI risk because of the high base risk of developing SMI [8]. The incomplete penetrance of multiple weak genetic risk variants means that familial and sporadic cases of SMI are unlikely to be fundamentally different [21]. Therefore, interventions developed in familial high-risk context are likely to generalize to broader target populations. Antecedents detected at earlier stages of development are likely to be less specific and less impairing than prodrome or full-blown SMI [1],[22]. Therefore, PEI may have to target the risk of mental illness in general or broader groupings like SMI rather than narrow diagnostic categories [5],[6]. Following the principles of staging and proportionality of interventions to current degree of problems [1],[22], the most acceptable and practical PEI will be interventions that carry low burden to participants, have very low risk of adverse effects, and are likely to be beneficial irrespective of whether a given individual was going to develop SMI or not. Even at the prodromal stage, low-risk psychological interventions were at least as effective as antipsychotic medication that carries a high burden of adverse effects [2],[23],[24]. Another low-risk intervention that has shown efficacy in the prodromal stage is dietary supplementation with polyunsaturated fatty acids [25]. Therefore, psychological interventions and dietary supplements are likely to be among the most practical and acceptable PEI.
In this article we outline the design and methods of a familial risk enriched cohort study that aims to test the efficacy of PEI for preventing SMI.
Methods/Design
Aims
This study has two related aims:
1.

Explore the role of selected psychopathological and cognitive antecedents in the development of severe mental illness.

2.

Evaluate the efficacy of antecedent-focussed pre-emptive early interventions in reducing psychopathology, improving functioning and preventing SMI.
Design
Families Overcoming Risks and Building Opportunities for Well-being (FORBOW) is an accelerated cohort study enriched in familial risk for SMI. The cohort is designed as a platform that can incorporate randomized controlled trials of PEI in a cohort multiple randomized controlled trial (cmRCT) design (Figure
1
) [
26
]. In a cmRCT, participants entering the cohort provide consent for their information to be used in the evaluation of interventions. Eligibility criteria and outcomes are assessed as part of regular cohort follow-ups. Some eligible participants are randomly selected to be offered an intervention. Those who are randomly selected for intervention are approached with an offer of intervention and provide a separate informed consent for the intervention only. Those who are not randomly selected to be offered the intervention do not need to sign a second consent since they are providing all measures as part of their participation in the cohort study. This design is more pragmatic than traditional randomized controlled trials since it mirrors the practice of offering a preventive intervention to non-treatment seeking participants and saves the participants from the unnatural and possibly harmful effect of being allocated to a control group after hearing about the details of a potentially beneficial intervention. Over time, cohort participants can be randomly selected for one or more interventions. Selection for each intervention is independent, allowing researchers to examine effects of each intervention independently as well as effects of sequential interventions. The accelerated character means that participants can enter the study at a range of ages and the cohort will allow drawing conclusions about a longer developmental period over a shorter study duration, taking advantage of intra-individual continuities and inter-individual differences [
27
]-[
29
]. Accelerated cohort is also suitable for interventions, since the participants are gradually moving through the age window of eligibility, optimizing the use of therapeutic resources and allowing to complete relatively large intervention studies with small intervention teams.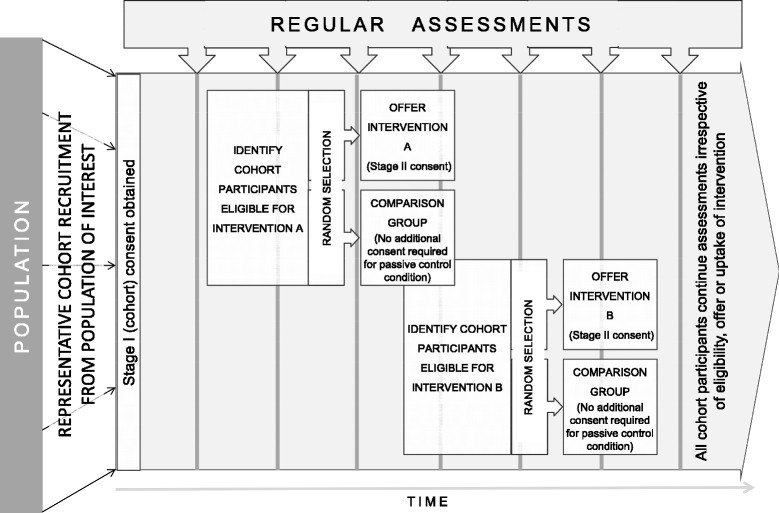 In FORBOW, the regular assessments occur in 12 month intervals. At each follow-up, we collect measures to assess the eligibility for intervention as well as primary and secondary outcomes. Separate teams assess offspring and parents. The researchers who assess the offspring are blind to the diagnosis of parents and vice versa. In 2013, the FORBOW study was launched in a single centre in Halifax, Nova Scotia. With inclusion of additional centres, FORBOW is likely to become a multi-centre study.
Focus on severe mental illness
Several lines of research suggest that study of mental illness should not be limited to one diagnostic category and that there is an advantage in studying broader categories in less selected samples. Conditions that are classified as separate diagnoses share most genetic and environmental risk factors [5],[6],[8]. In addition, the early antecedents to mental illness may be less diagnosis-specific and the most pragmatic aim is prevention of any SMI rather than one specific disorder [1],[22]. Therefore, the primary focus of the FORBOW study is the broad category of SMI. Our definition of SMI comprises major psychotic and mood disorders that typically start in late adolescence or early adulthood and reach a severity that requires inpatient or intensive psychiatric care. We include in the definition of SMI all cases of schizophrenia, schizoaffective disorder and bipolar disorder type I. We include cases of major depressive disorder and bipolar disorder type II if they fulfill two or more severity criteria: (1) severity that requires hospital admission, (2) recurrence (3 or more episodes within 10 years), (3) chronicity (symptoms present for most days over two years or longer with no remissions lasting 2 months or longer), (4) psychotic symptoms or (5) a life-threatening suicide attempt. These severity criteria are designed so that cases of broadly defined disorders are included if they reach the degree of severity implicit in the concept of SMI.
Participants, inclusion and exclusion criteria
FORBOW enrolls offspring of parents with SMI (FHR, family high-risk offspring), and offspring of healthy parents matched on neighbourhood and demographic factors (CO, comparison offspring). FHR are recruited by referrals from adult mental health services, by clinicians who treat parents with SMI. The recruitment materials emphasise that all biological children should be invited to participate, irrespective of whether or not they live with the biological parent and whether or not there are any concerns about their mental health. In several mental health services across Nova Scotia, a systematic recruitment procedure is in place where all patients are asked about the number and age of biological children and patients with SMI and one or more biological children in the eligible age range are referred to FORBOW. Partnership with the Department of Community Services, Nova Scotia, allows following up children who are not in the care of their biological parents. CO are recruited through two pathways: (1) acquaintance referrals, targeting families living in the same neighbourhood and having children of the same age as the FHR; (2) school recruitment by approaching parents of children in the same geographic areas where FHR are enrolled. Both ways of recruitment are designed to obtain a sample of CO who are similar to FHR offspring in terms of neighbourhood, school and socioeconomic status. At the time of writing, FORBOW is enrolling offspring between ages 3 years and 21 years. A planned downward extension (FORBOW-ELF, Early Life Focus) will include offspring below age 3. All offspring continue to be followed up until age 27, to cover the highest risk period for SMI onset. To maximize generalizability, FORBOW assumes broad inclusion and minimal exclusion criteria. All biological offspring in the eligible age range can participate in the study provided that at least one of their biological parents is available for assessment and that the offspring or their legal guardian provides a valid informed consent. Multiple offspring from the same family can enrol. Exclusion criteria are acquired brain injury or intellectual disability of a degree that makes all or most assessments invalid. Offspring with milder intellectual disability, autism or attention-deficit hyperactivity disorder can participate, but the range of assessments may be reduced, given their attention, comprehension and communication abilities. Biological parents and other caregivers are also FORBOW participants.
Sample size and power calculation
It is our aim to halve the risk of SMI by providing PEIs. The sample size required to detect such effects with adequate statistical power depends on the base risk of developing SMI in the absence of intervention (Figure
2
). Based on a meta-analysis of published familial high-risk studies, the risk that an offspring of a parent with SMI develops a major mood or psychotic disorder by early adulthood is 32%, compared to 13% in the general population [
8
]. Consequently, testing interventions in high-risk offspring reduces the sample size requirements 2.5-fold compared to general population samples. Assuming a 3:1 ratio of FHR and CO, and a 15% attrition on follow-up, a sample of 316 (158 receiving intervention and 158 in a control arm) is required to detect an effect of intervention that halves the risk of SMI as statistically significant (p < 0.05) in a survival analysis with a power of 80%. Pilot data suggest that approximately 50% participants may be eligible for interventions. Therefore, FORBOW aims to recruit 632 participants.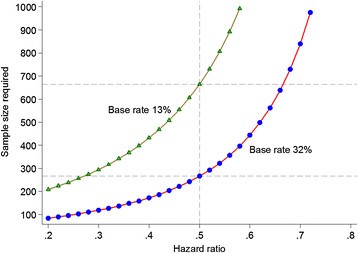 Assessments
Separate research teams assess offspring and parents. Both biological parents are assessed. Researchers assessing the offspring are blind to the diagnosis of the parents and vice versa. Parents and offspring are discouraged from discussing details of assessment with each other. All assessors are blind to allocation to interventions and participants are specifically instructed not to mention study intervention to the assessors. Parents and offspring are assessed concurrently to optimize the use of their time.
Follow-up and retention of participants
The validity of longitudinal study results depends on retention rates. We build on experience from cohort studies that achieved long-term retention rates over 90% [11],[79],[120],[133]-[139]. We employ strategies to minimize attrition including regular friendly and non-stigmatising contact (updates, newsletters and greeting cards), requesting multiple contact routes and repeated attempts to contact hard-to-reach individuals [138]. We provide a welcoming environment with seamless completion of assessments without unnecessary hassle. We reimburse participants for their time and we support their transport costs. Our target is 90% retention over 3 years.
Interventions
We preferentially consider low-burden, low-risk interventions that are proportionate to the relatively mild antecedent psychopathology and are likely to be acceptable to a large proportion of non-treatment seeking participants and their families. The primary focus is on psychological and nutrition supplement interventions.
For children below the age of 9, the interventions will primarily target parents and carers, with an optional involvement of the child participant. Parent skill training has strong evidence for efficacy in conditions characterized by affective lability and anxiety [54]. Parent skills training can be combined with cognitive training for children to address cognitive delay and attentional problems. [140]
For youth aged 9 and above, the psychological interventions will focus on the young individual, with optional involvement of parents or carers. The first such intervention will involve the youth learning skills for emotional wellbeing, including emotional self-understanding, problem solving, present moment focus, distress tolerance, reality testing, activity scheduling, and healthy sleeping, following the principles of CBT. The intervention is modular and adapted to the individual through a combination of core and optional modules, potentially addressing multiple antecedents [141]. There is evidence that CBT in childhood and adolescence has long-term positive impact on mental health [142].
Further psychological intervention may address temperamental risk factors that put an individual at risk for drug use and other risk taking behaviours. There is evidence that such interventions have lasting effects on multiple domains of mental health and well-being [82].
Another type of safe and potentially effective interventions are dietary supplements, such as polyunsaturated fatty acids, vitamin D and choline, which have evidence for beneficial effects on neurodevelopment [25],[143],[144]. The selection and development of interventions are ongoing and will take into account the evolving evidence base for safety and efficacy.
Outcome measures
The primary short-term outcome for intervention studies within FORBOW is the persistence of antecedents in the assessments following the offer of intervention. The primary long-term outcome is the development of SMI. Secondary outcomes are dimensional measures of functioning, distress, psychopathology and quality of life and diagnosis of any mental disorder on follow-ups.
Data analysis strategy
The analysis of outcomes will follow the intention-to-treat principle [145]. Effects of interventions on antecedent persistence will be tested with lagged effect binomial regression models. Long-term effects of interventions on the risk of SMI onset will be tested in proportional hazard survival models. Clustering of siblings within a family will be accounted for by hierarchical random effects of individual and (where more than one sibling from same family are included) of family or estimation of standard errors robust to clustering within families. Missing data on covariates will be handled with multiple imputation [146], so that missing covariates do not reduce the number of subjects available for analyses. Missing data on primary outcomes (antecedents) will not be imputed [147].
Discussion
Ethical aspects
FORBOW assessments involve safe established procedures and participation in FORBOW does not limit participants in accessing any type of care. However, FORBOW includes psychiatric assessments and offers of interventions to young individuals, who are not presently seeking treatment. Therefore, it is essential to ensure confidentiality and minimize the risk of stigmatization (including self-stigmatization). We collaborate with organizations of people with lived experience of mental illness and communication specialists in the area of mental health to optimize acceptability and minimize risks. The inclusion of control families from the general population and sensitive communication ensure that participation in the study is not associated with a 'risk' label. We ask all parents and offspring who have the capacity to provide written consent after the study procedures are explained and written information is provided. We ask parents or guardians for written authorization for participation of offspring who may not have the capacity to provide consent. This includes consent to access electronic health-care related data through linkage with health card numbers, and consent to be contacted for additional research studies, including studies of interventions. We ask offspring who lack the capacity to provide consent for a verbal assent and we only include them if both consent and assent are provided.
We acknowledge that research diagnosis does not equal the need for treatment and we do not actively provide feedback on diagnoses and test results. We handle requests from participants or families for individual feedback on case-to-case basis with involvement of a licensed psychiatrist. Any feedback respects confidentiality of individual participants: information provided by offspring is not disclosed to parents unless such disclosure is necessary to prevent significant harm. Diagnosis of parents will not be disclosed to the offspring. The study protocol has been approved by the Capital District Health Authority Research Ethics Board, the IWK Health Centre Research Ethics Board, health authorities across Nova Scotia, and the Department of Community Services, Nova Scotia, Canada.
Conclusion and directions
Through a combination of familial history and antecedents, FORBOW provides an opportunity to bring early intervention efforts into a younger age group compared to interventions in prodromal stages of SMI. Indirect evidence suggests that earlier interventions may have greater beneficial influence. However, only the long-term results of FORBOW and similar studies will provide the definite answer on whether earlier is better. Thanks to random selection of eligible individuals for interventions, FORBOW will experimentally test the role of early antecedents in the etiology of mental illness. Even with accelerated cohort design, the main results will take a decade to emerge.
Webpage: http://www.forbow.org.
Declarations
Acknowledgements
Te work described in this article has been generously funded by the Canadian Institutes of Health Research, Nova Scotia Health Research Foundation, Canada Foundation for Innovation, the Dalhousie University Department of Psychiatry and the Canada Research Chairs Program.
Authors' Affiliations
(1)
Capital District Health Authority, Halifax, Canada
(2)
IWK Health Centre, Halifax, Canada
(3)
Department of Psychiatry, Dalhousie University, Halifax, Canada
(4)
Department of Psychology and Neuroscience, Dalhousie University, Halifax, Canada
(5)
Department of Public Health and Epidemiology, Dalhousie University, Halifax, Canada
Copyright
© Uher et al.; licensee BioMed Central Ltd. 2014
This article is published under license to BioMed Central Ltd. This is an Open Access article distributed under the terms of the Creative Commons Attribution License (http://creativecommons.org/licenses/by/4.0), which permits unrestricted use, distribution, and reproduction in any medium, provided the original work is properly credited. The Creative Commons Public Domain Dedication waiver (http://creativecommons.org/publicdomain/zero/1.0/) applies to the data made available in this article, unless otherwise stated.