Research article

Open Access

Open Peer Review
This article has Open Peer Review reports available.
Brain structural changes and neuropsychological impairments in male polydipsic schizophrenia
Received: 16 February 2012
Accepted: 21 November 2012
Published: 26 November 2012
Abstract
Background
Polydipsia frequently occurs in schizophrenia patients. The excessive water loading in polydipsia occasionally induces a hyponatremic state and leads to water intoxication. Whether polydipsia in schizophrenic patients correlates with neuropsychological impairments or structural brain changes is not clear and remains controversial.
Methods
Eight polydipsic schizophrenia patients, eight nonpolydipsic schizophrenia patients, and eight healthy controls were recruited. All subjects underwent magnetic resonance imaging (MRI) and neuropsychological testing. Structural abnormalities were analyzed using a voxel-based morphometry (VBM) approach, and patients' neuropsychological function was assessed using the Brief Assessment of Cognition in Schizophrenia, Japanese version (BACS-J).
Results
No significant differences were found between the two patient groups with respect to the clinical characteristics. Compared with healthy controls, polydipsic patients showed widespread brain volume reduction and neuropsychological impairment. Furthermore, the left insula was significantly reduced in polydipsic patients compared with nonpolydipsic patients. These nonpolydipsic patients performed intermediate to the other two groups in the neuropsychological function test.
Conclusions
It is possible that polydipsia or the secondary hyponatremia might induce left insula volume reduction. Furthermore, this structural brain change may indirectly induce more severe neuropsychological impairments in polydipsic patients. Thus, we suggest that insula abnormalities might contribute to the pathophysiology of polydipsic patients.
Keywords
Schizophrenia
Polydipsia
Volumetry
MRI
Neuropsychological impairment
Brief assessment of cognition in schizophrenia
Background
Schizophrenia affects about 1% of the population worldwide [1], and induces neuropsychological impairment [2], as well as structural brain changes [3]. Among the many comorbidities associated with schizophrenia, polydipsia is defined as either chronic or intermittent ingestion of large volumes of water. Polydipsia occurs frequently among patients with schizophrenia and may be present in more than 20% of chronic psychiatric inpatients [4]. Polydipsia is not explained by medically induced polyuria, but it may lead to hyponatremic symptoms and can cause neurological symptoms. These neurological symptoms include: nausea, vomiting, delirium, ataxia, seizures, and even death, and are often referred to as "water intoxication" [4]. Up to 5% of chronic inpatients develop water intoxication, although mild cases may go undetected [4].
Neuroendocrine studies revealed that schizophrenia patients with hyponatremia secreted excess antidiuretic hormone (ADH) in a hypo-osmolemic serum state [5, 6]. ADH controls the reabsorption of water molecules in the tubules of the kidneys and plays a key role in the regulation of water. Therefore, excessive ADH secretion may accelerate a hyponatremic state and produce water intoxication [6, 7]. The pathophysiology of polydipsia on the other hand remains to be elucidated.
Previous imaging studies indicate the brains of polydipsic hyponatremic schizophrenia patients present with volume reductions in the anterior medial temporal lobe [8, 9], especially in the anterior hippocampus relative to nonpolydipsic schizophrenia using region of interest (ROI) analysis [10]. Indeed, one study reported that polydipsic, hyponatremic schizophrenia patients exhibited bilateral inward deformations in the anterior lateral hippocampal surface [11]. However, structural differences in other brain regions of these polydipsic hyponatremic schizophrenia patients were not assessed. Interestingly, hyponatremic patients presented with poorer neuropsychological functioning compared to patients without a water imbalance [12–15]. Polydipsic hyponatremic schizophrenia patients scored lower on the Mini-Mental State Examination (MMSE) [14] with significant impairments in visual memory and information processing [12], intelligence, learning/memory, and facial discrimination [15] compared to control patients. Thus, it is considered that the structural changes in the anterior hippocampus, as well as in the associated prefrontal/limbic brain regions contribute to the underlying pathophysiology in polydipsic hyponatremic schizophrenia [11, 15]. To our knowledge, these brain regions have not been examined using voxel-based morphometry (VBM) [16] in polydipsic schizophrenia patients. VBM is an efficient whole brain unbiased technique capable of analyzing structural magnetic resonance images (MRI), such as the differences between brains of schizophrenia patients with or without water imbalances. Lastly, previous studies [15] have not evaluated executive functions, which are impaired in schizophrenia [17–20], nor have they included healthy control subjects.
To assess the pathophysiology of polydipsic schizophrenia (PS), we used the VBM approach and evaluated neuropsychological function, including executive functions, to compare the difference between PS, nonpolydipsic schizophrenia (NS) and healthy controls (HC). In the VBM analysis, the main aim of this study was to compare brain structural volumes between PS and NS. As a preliminary exploration, we also compared PS with HC.
Results
Demographic and clinical characteristics
The comparisons of the three groups with respect to demographic and clinical characteristics are presented in Table 1. There were no differences in demographic and clinical characteristics among the three groups. All groups had normal hydration status on the measuring day. PS had a longer duration of illness and higher chlorpromazine equivalent doses than did NS, but there were no significant differences between these two patient groups. Also, psychopathological scores measured by PANSS were not significantly different between these two patient groups.
Brain structural differences
PS versus NS
PS showed significantly reduced GM/WM volume in the left insula compared with NS (Figure
1
a, Table
2
). No significant increased regions were found in NS compared with PS.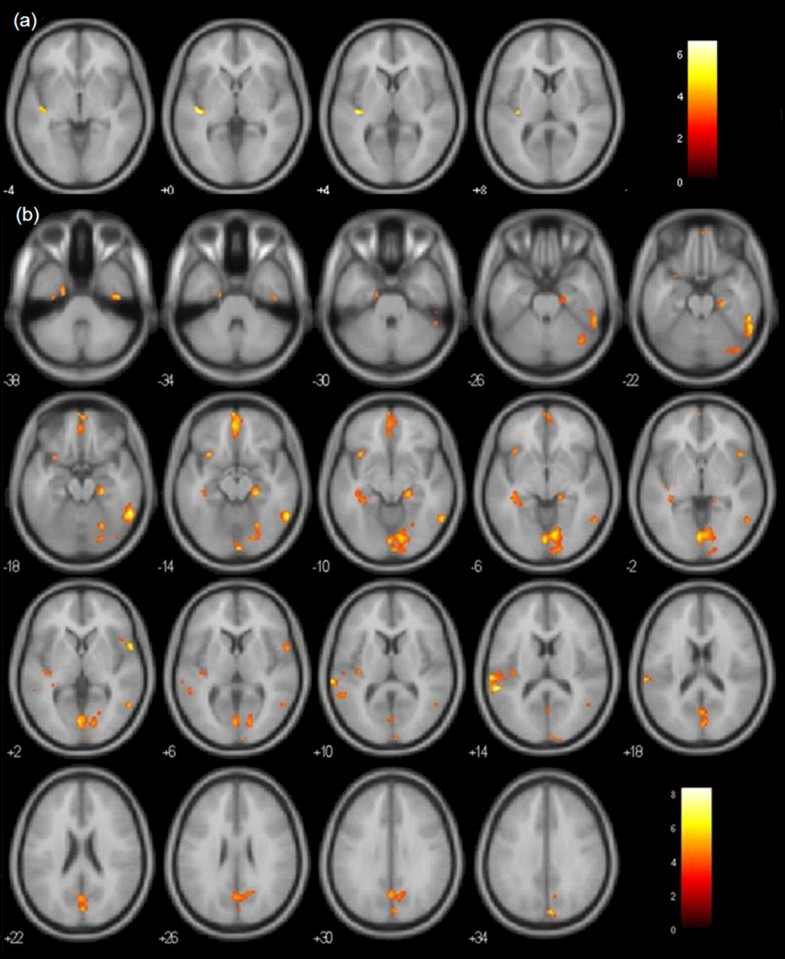 Table 2
Regional GM/WM volume changes
Between group comparison

  Decreased region

MNI coordinates (mm)

voxels

t-value

X

Y

Z

PS < NS

L insula

−42

−22

0

73

6.58

PS < HC

R inferior temporal gyrus

56

−52

−18

471

7.28

L superior temporal gyrus

−58

−40

14

289

8.44

R superior temporal gyrus

58

8

2

89

6.89

L insula

−38

−22

12

73

5.09

L medial frontal gyrus

−2

50

−14

315

6.39

L inferior frontal gyrus

−30

16

−14

94

5.67

R lingual gyrus

10

−78

−8

1055

6.93

R cuneus

4

−82

32

420

6.08

R parahippocampal gyrus

22

−28

−14

194

6.18

L uncus

−22

−6

−38

75

5.20

R cerebellar posterior lobe

40

−66

−26

92

5.01
Neuropsychological differences
Neuropsychological scores are shown in Table
3
. The composite score was −2.57 ± 1.78 for PS, –1.69 ± 1.69 for NS and 0.00 ± 0.95 for HC. PS group was significantly more impaired than HC in all categories of BACS-J. Furthermore, PS group was more impaired in all categories of BACS-J than NS, although not significantly. NS group was significantly more impaired than HC in motor speed, attention/speed of processing, and executive function. HC group did not show any impairment in all BACS-J subcategories relative to those patient groups.
Table 3
Neuropsychological scores using the BACS-J
| | PS (n = 8) | NS (n = 8) | HC (n = 8) | Kruskal-Wallis | p-value | post hoc |
| --- | --- | --- | --- | --- | --- | --- |
| verbal memory | 21.0 ± 12.47 | 30.25 ± 8.31 | 38.13 ± 8.95 | 8.3 | <0.05 | PS < HC |
| working memory | 15.38 ± 2.13 | 17.13 ± 5.62 | 22.38 ± 3.78 | 9.1 | <0.05 | PS < HC |
| motor speed | 40.75 ± 13.18 | 52.75 ± 15.34 | 72.75 ± 9.68 | 14.4 | <0.001 | PS < HC, NS < HC |
| verbal fluency | 29.75 ± 7.91 | 33.38 ± 13.64 | 42.38 ± 6.78 | 6.1 | <0.05 | PS < HC |
| attention/speed of processing | 39.88 ± 9.72 | 46.75 ± 15.27 | 65.75 ± 10.32 | 12.8 | <0.01 | PS < HC, NS < HC |
| executive function | 13.88 ± 3.80 | 15.50 ± 2.67 | 18.63 ± 1.19 | 10.2 | <0.01 | PS < HC, NS < HC |
Discussion
This is the first study to assess brain structural changes using the VBM approach and neuropsychological impairment—including executive function—between PS, NS, and HC. The current study demonstrated PS showed significant volume reduction in the left insula compared to NS. In imaging studies of schizophrenia, the laterality of the insula volume reduction is inconsistent—localization can be found on either the right side, left side, or bilaterally [28]. In our study, there were no significant differences in the clinical characteristics between the two patient groups. In particular, the PANSS scores of PS and NS were almost similar, despite previous findings indicating that schizophrenia with polydipsia were characterized by greater severity of illness [29]. Therefore, the left-sided volume reduction seemed to be attributable to either the polydipsia or the secondary hyponatremia in our study. The insula is a component of the "limbic integration cortex" and is associated with emotional and neuropsychological functions [30–32]. Although there were no significant differences in neuropsychological scores between the patient groups, the PS group was more impaired in all categories of the BACS-J compared to the NS group. This may be due to their reduced insula volume, which in turn may indirectly affect neuropsychological function. Indeed, the insula has extensive connections to many brain areas including limbic regions [28]. It should be noted that chronic hyponatremia may also be associated with psychomotor and attention deficits [33, 34]. Although in the current study the PS group had normal hydration status on the day of testing, it is possible that past or present hyponatremia affects neuropsychological function.
In a preliminary exploration, we found that PS had widespread GM/WM volume reduction and neuropsychological impairment compared to HC. It is well accepted that fronto-temporal integration [35], prefrontal-parietal networks [36], the fronto-parieto-occipital network [37] and the cortical-thalamic-cerebellar-cortical circuit [38] support a variety of neuropsychological functions. The widespread GM/WM volume reduction of these brain networks, as in PS, would result in neuropsychological impairment. Previous research has indicated that polydipsic hyponatremic patients had reduced anterior hippocampi compared to nonpolydipsic patients [10] and that reduced anterior hippocampi were associated with chronic hyponatremia [15]. The uncus is regarded as the anterior region of the hippocampus [39] and is a recognizable internal marker for dividing the hippocampus [40, 41]. Although in this study the size of the uncus was not significantly different between the two patient groups, PS exhibited volume reductions in the left uncus compared with HC. We recruited PS patients who were treated with water restriction. These water restrictions may act to decrease the hyponatremic status frequency and may prevent further volume reduction of the anterior hippocampus. In our study, PS showed normal hydration status on the day of testing and normal sized brain regions when compared to the other groups. It has been previously reported that acute hyponatremia induced by polydipsia results in cerebral edema [24]. Therefore, our findings could reflect the trait abnormalities of PS.
There are some limitations in the current study. The first is the small sample size, which reflects the difficulty of recruiting and studying polydipsic patients [10, 15]. It has been shown that longer duration of illness [42] and greater intensity of antipsychotic treatment [43] are probably associated with structural brain changes. Although the duration of illness and the chlorpromazine equivalent doses were not statistically different between PS and NS, their variances were moderate given our sample size. Therefore, we could not completely exclude the possibility of these confounding effects. The second limitation is that the participants in our study consisted only of males. It should be noted that a previous study found that polydipsic schizophrenics had a more frequent history of alcohol abuse [29], which was one of the exclusion criteria in our study. Thus, these factors might limit the generalizability of our results. Furthermore, our PS patients had histories of hyponatremia, but did not indicate continuous hyponatremia or were not examined with frequent hydration state measurements. Therefore, we could not identify if the hyponatremia or the polydipsia had more influence on the structural brain changes. To clarify this point, another study is needed that assesses polydipsic patients without a history of hyponatremia.
Conclusion
Finally, it is possible that polydipsia or the secondary hyponatremia might induce a left insula volume reduction. Our findings provide insights on the pathophysiology of schizophrenic polydipsia. In addition, further insula volume reductions might induce further neuropsychological impairments. In the future, another imaging method like diffusion tensor imaging or functional imaging may help elucidate the brain networks disrupted or the extent of pathophysiology in polydipsia.
Declarations
Acknowledgements
We thank Dr. Yukichiro Minami and Dr. Naoki Minami for their data collection contributions. We also thank Mr. Jose Morales (The University of Chicago) for critical proof reading of the manuscript.
Authors' Affiliations
(1)
Department of Psychiatry, Nara Medical University, Kashihara, Nara, Japan
(2)
National Hospital Organization Yamato Mental Medical Center, Yamatokoriyama, Nara, Japan
(3)
Sakai City Mental Health Center, Sakai, Osaka, Japan
(4)
Department of Radiology, Nara Medical University, Kashihara, Nara, Japan
Copyright
© Nagashima et al.; licensee BioMed Central Ltd. 2012
This article is published under license to BioMed Central Ltd. This is an Open Access article distributed under the terms of the Creative Commons Attribution License (http://creativecommons.org/licenses/by/2.0), which permits unrestricted use, distribution, and reproduction in any medium, provided the original work is properly cited.