Research article

Open Access

Open Peer Review
This article has Open Peer Review reports available.
Dual diagnosis clients' treatment satisfaction - a systematic review
Received: 16 December 2010
Accepted: 18 April 2011
Published: 18 April 2011
Abstract
Background
The aim of this systematic review is to synthesize existing evidence about treatment satisfaction among clients with substance misuse and mental health co-morbidity (dual diagnoses, DD).
Methods
We examined satisfaction with treatment received, variations in satisfaction levels by type of treatment intervention and by diagnosis (i.e. DD clients vs. single diagnosis clients), and the influence of factors other than treatment type on satisfaction. Peer-reviewed studies published in English since 1970 were identified by searching electronic databases using pre-defined search strings.
Results
Across the 27 studies that met inclusion criteria, high average satisfaction scores were found. In most studies, integrated DD treatment yielded greater client satisfaction than standard treatment without explicit DD focus. In standard treatment without DD focus, DD clients tended to be less satisfied than single diagnosis clients. Whilst the evidence base on client and treatment variables related to satisfaction is small, it suggested client demographics and symptom severity to be unrelated to treatment satisfaction. However, satisfaction tended to be linked to other treatment process and outcome variables. Findings are limited in that many studies had very small sample sizes, did not use validated satisfaction instruments and may not have controlled for potential confounders. A framework for further research in this important area is discussed.
Conclusions
High satisfaction levels with current treatment provision, especially among those in integrated treatment, should enhance therapeutic optimism among practitioners dealing with DD clients.
Keywords
Dual diagnosis
co-morbidity
integrated treatment
mental illness
satisfaction
substance misuse
Background
The evidence base regarding best practice for the treatment of clients with co-occurrence of substance misuse and mental health problems (dual diagnosis, DD) remains ambiguous. While some studies have found promising client outcomes after integrated treatment (simultaneous care for both problem areas by the same provider) [1–3], several systematic reviews have concluded that the evidence remains inconsistent as to whether integrated care is more effective than parallel or sequential treatment approaches [4–10].
While most DD studies evaluate treatment effectiveness in terms of improvements in clinical outcomes (i.e. severity of substance misuse and/or psychiatric symptoms), recent research has also started to focus on client perceptions of treatment. Clients' views towards their care have been commonly subsumed under the term of 'treatment satisfaction', which refers to "the extent to which a programme is perceived as having met an individual's treatment wants and needs" (p. 456) [11]. Examining client satisfaction can provide valuable insights into treatment delivery by identifying the nature and extent of unmet needs and expectations [12–15]. Client perceptions are increasingly recognised as an important indicator of treatment quality with previous research showing links between satisfaction, treatment adherence, retention and clinical treatment outcomes [16–23]. Recent treatment guidelines in both the mental health and the addiction field list the improvement of client satisfaction as a key target [24–26]. Taking into account the ongoing uncertainty around best-practice models for the DD population, clients' own treatment perceptions about different care approaches may be important in identifying potential problems in the quality of existing interventions and in informing future treatment developments.
Objectives
The aim of this review is to synthesize existing evidence about treatment satisfaction among DD clients. The following four key questions have guided the review:
1) How satisfied are DD clients with treatment they receive?
2) Do satisfaction levels among DD clients differ according to whether they receive integrated or standard care?
3) Do DD clients report lower treatment satisfaction levels compared to single diagnosis clients when treated in the same clinical setting?
4) Do studies identify other factors related to treatment satisfaction in DD clients?
Methods
Study inclusion criteria
We considered all quantitative studies that assessed treatment satisfaction among adult clients with co-existing drug/alcohol misuse and mental health problems, without placing restrictions on the clinical setting in which the study was carried out or the type of diagnosis procedure used. Studies were excluded if sample sizes were smaller than N = 10, treatment provision comprised self-help groups only or was limited to a single treatment session. Furthermore, studies had to provide basic information about the satisfaction assessment used and to report results of DD clients' satisfaction ratings separately from any other groups that may also have been investigated. The electronic databases PsycInfo, Medline, Academic Search Premier and ProQuest were searched using pre-defined search strings to identify studies published in English-language peer-reviewed journals between January 1970 and October 2010 (see Figure
1
). Bibliographies and citation records of relevant papers were also examined.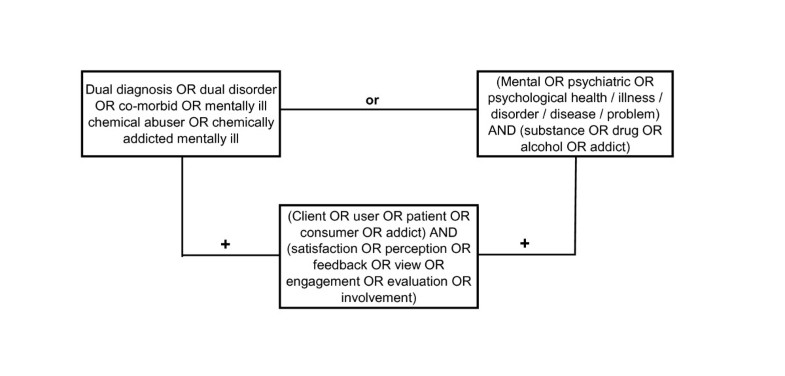 Selection of potentially relevant studies
Initially, search results (N = 2,093) were screened based on study titles by the first author. Studies were excluded if titles indicated that the focus was on populations with other co-morbidities (e.g. two medical conditions) or non-treatment contexts (n = 996, see Figure
2
). Next, abstracts of the remaining studies were examined (n = 1,097) to decide if a study met the inclusion criteria and appeared to address at least one of the research questions. As a result, 969 studies were excluded based on the information given in the abstract (e.g. small sample size, participants younger than 18 years). The full text article was obtained for 128 studies, which were subjected to a more detailed analysis using a self-developed data extraction form (available from the first author). That is, relevant information (e.g. methods used for assessing satisfaction, sample size, research questions addressed) was extracted from each of the 128 articles to determine their eligibility for the current review. In order to avoid missing relevant studies, full texts were also screened for DD-related articles where it was unclear from the abstract whether treatment satisfaction was assessed (e.g. range of outcome variables not fully specified). At this stage, 101 studies were excluded because they i) did not explicitly focus on both co-morbidity and client satisfaction together (n = 71), ii) did not separately report satisfaction levels among client subgroups with DD problems (n = 13), iii) used qualitative methods only (n = 6), iv) assessed client perceptions but not treatment satisfaction explicitly (n = 6), and v) did not provide sufficient detail about the satisfaction instrument used (n = 5). Full citation details for these studies are given in Additional File
1
.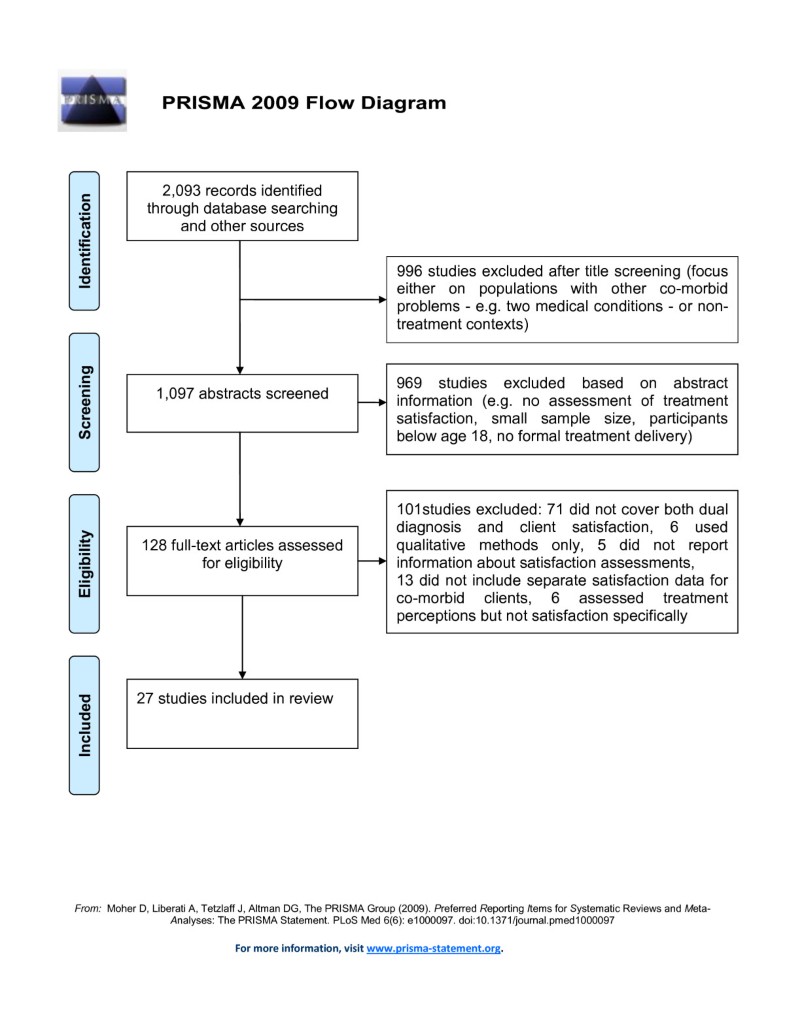 We assessed the quality of each of the remaining 27 studies selected for inclusion by critically appraising the following aspects of its protocol based on existing guidelines [27]: study design (e.g. single vs. multiple satisfaction assessment points), research instruments used (standardised vs. non-standardised), adequacy of a study's sample size (e.g. power calculations mentioned) and robustness of analytic approach (e.g. control variables). Furthermore, we intended to include a meta-analysis of those studies that address research question 2 and 3. However, due to the small number of studies available, difficulties in the data preparation process (i.e. statistics required for calculating effect measures were missing in two articles), and high heterogeneity among studies, we considered a quantitative synthesis of data inappropriate for the current review.
Discussion
Over the last four decades, 27 studies meeting our inclusion criteria could be identified that examined treatment satisfaction in DD clients. This review shows that most DD clients report being satisfied with their treatment experience, reflected by average ratings close to the "satisfied" end of the scales used. This applied regardless of the differences in study location (i.e. US, UK, Australia or Honduras), treatment settings and types of interventions delivered. When comparing satisfaction ratings of dual and single diagnosis clients treated in the same setting (i.e. either mental health or substance misuse treatment), a large and well-designed study found that DD clients were significantly less satisfied than single diagnosis clients [36]. Two smaller studies, however, showed that clients with co-morbid problems had similarly high satisfaction ratings as those with a single diagnosis [33, 35]. This inconsistency may be linked to differences in satisfaction instruments used (i.e. standardised vs. non-standardised), client profiles (e.g. the larger study included men only) and the small sample sizes in the two studies that found no differences in satisfaction ratings (N < 50).
If replicated in future studies, a finding that DD clients are less satisfied with standard (i.e. either mental health or addiction-focused) treatment than single diagnosis clients would support the common understanding that disease-specific treatment is inadequate to address the complex needs of the DD population. An integrated treatment model is usually favoured in discussions about which approach is the most beneficial for co-morbid clients e.g. [57, 58]. The question as to whether or not these benefits are also reflected in greater satisfaction levels was specifically addressed by seven studies included in this review. Of these, five offered evidence that integrated care yields greater client satisfaction than standard treatment [30, 31, 37, 41, 44]. The five studies were all conducted in the US whereas the two other studies that found no significant differences in satisfaction by treatment approach were carried out elsewhere (UK and Honduras ) [38, 52]. In this context, however, it is important to bear in mind that of the seven studies identified only three assessed treatment fidelity and thus monitored if the integrated treatment condition was implemented as intended. These three studies consistently demonstrated higher satisfaction levels in the integrated treatment group compared to ratings from clients in standard care [30, 31, 44].
Nine studies investigated which factors - other than treatment type - are associated with satisfaction among DD clients. Studies that examined client pre-treatment factors (i.e. demographics, primary substance of misuse and type of psychopathology) found no association with satisfaction ratings. In contrast, a number of treatment process and service-related variables were identified that appeared linked to satisfaction (e.g. client and staff outcome ratings, frequency of contact with treatment service, family and transportation assistance). In some studies though, it remained unclear whether or not potential confounders were taken into account, which needs to be addressed in future studies. Moreover, it would be important to examine the effect of variables that have been found to be associated with treatment satisfaction among single diagnosis samples in the past (e.g. access routes, treatment motivation and engagement, care-plan procedures, staff and service characteristics) [11, 59–65].
In terms of rigor, the 27 studies were diverse, and some had important methodological shortcomings. Only 13 studies used standardised measures to assess treatment satisfaction, and while the selected instruments have shown acceptable psychometric properties when used with single diagnosis treatment populations e.g. [11, 55, 66, 67], the scales' reliability and validity in clients with co-morbidity was reported by only two studies [36, 41]. DD clients might have different treatment expectations due to more complex needs than those with a single diagnosis. Thus, response patterns to a given set of questions might vary between populations with and without DD, and psychometric testing would be important to ensure meaningful interpretation of data. Similarly, only three of the studies that used a self-developed satisfaction scale provided psychometric information sufficient to permit reasonable evaluation of the instruments [30, 31, 51].
Secondly, studies were restricted in their examination of potential confounders of satisfaction ratings. Only five studies reported explicitly that they controlled for any links between client characteristics and satisfaction levels [28, 34, 36, 41, 54]. The lack of client control variables and other potential confounders (e.g. treatment process variables, practitioner characteristics) is of particular concern in those studies that compared satisfaction levels by type of treatment model: uncontrolled factors may affect clients' satisfaction ratings, which in turn distorts interpretations concerning actual treatment effects.
A third methodological difficulty concerns possible time-in-treatment effects on satisfaction ratings. In most of the reviewed studies, clients were at different treatment stages when satisfaction was assessed, with only ten studies taking the length of treatment exposure into account. Two of these reported client satisfaction at different treatment stages, with one showing stable high ratings throughout [40] and the other study indicating a negative linear trend in satisfaction levels during the treatment course [56]. Based on the latter, it could be assumed that clients' most urgent needs are addressed in the early treatment phase thus producing particularly high satisfaction levels early on in the programme. In later treatment phases though, possibly more persistent problem areas are targeted for which behaviour change and improvement is more difficult to achieve. Subsequently, studies examining satisfaction early in treatment may find higher satisfaction ratings than studies with later assessment schedules. However, at the same time it is plausible that clients who have spent more time in treatment may have experienced greater benefits overall and possibly show higher satisfaction levels than clients who have spent less time in the programme [68]. In either case, having more information about potential time-in-treatment effects across the existing studies would have been useful.
The current review has highlighted some important gaps in our knowledge of treatment satisfaction among DD clients such as the influence of practitioner characteristics and treatment process variables as well as the effect of client satisfaction on different treatment outcomes. Clients' subjective evaluations have been recognised in both mental health and addiction treatment populations as key indicators of treatment quality and effectiveness e.g. [19, 21, 36, 69], and so this remains an important area of research. The review contributes a methodological framework of four key aspects that future studies should consider to overcome the limitations, namely: 1) employment of well-validated and comparable satisfaction assessment techniques, 2) selection of multiple measures that incorporate several treatment- and client-related factors, 3) controlling for potential confounders of satisfaction, including pre- and in-treatment factors (e.g. treatment readiness, frequency of service contact, substitute prescribing) and practitioner characteristics (e.g. work experience), and 4) the nature and extent of treatment exposure (e.g. assertive vs. standard care, length of treatment stay). Here, special attention should be paid to the assessment of treatment fidelity. This is particularly important for studies aiming to replicate the finding that integrated treatment - if implemented appropriately - yields greater client satisfaction than other treatment models. Furthermore, it would be vital for future studies to investigate links between satisfaction and other treatment process and outcome variables to demonstrate more clearly whether greater satisfaction among DD clients translates into better engagement and retention, lower relapse rates and reduced symptom severity. Finally, a more general point requires consideration: a recent review has shown that satisfaction studies disproportionally found positive accounts from clients throughout treatment modalities and client populations [70]. In order to avoid misinterpretation of client ratings due to social desirability or other potential bias, safeguards should be applied in future studies, such as keeping assessments anonymous and comparing satisfaction ratings of treatment completers and dropouts.
A limitation of the current review is that no meta-analysis could be carried out. A quantitative synthesis of data could have taken into account small sample sizes and moderate - if not significant - effects thus providing further insight into the current evidence base. Depending on the growth of studies in this field, future reviews should include such analyses where possible.
Conclusions
Our review shows that dually diagnosed clients are, on the whole, satisfied with current treatment provision, despite the common notion that individuals with co-morbidity are the most difficult-to-treat clients e.g. [71]. Integrated treatment delivery, which simultaneously addresses both addiction and mental health concerns, appeared to result in particularly high levels of satisfaction. Findings should be of particular interest to treatment providers as it may enhance optimism among practitioners dealing with such clients.
Declarations
Acknowledgements
Grant support and other essential acknowledgments: Not applicable
Authors' Affiliations
(1)
International Studies Department, American University of Sharjah, Sharjah, United Arab Emirates
(2)
School of Health and Related Research, University of Sheffield, Sheffield, UK
(3)
Department of Psychology, Elizabeth Gaskell Campus, Manchester Metropolitan University, Manchester, UK
Copyright
© Schulte et al; licensee BioMed Central Ltd. 2011
This article is published under license to BioMed Central Ltd. This is an Open Access article distributed under the terms of the Creative Commons Attribution License (http://creativecommons.org/licenses/by/2.0), which permits unrestricted use, distribution, and reproduction in any medium, provided the original work is properly cited.