Editor Profiles
Darren Byrne is an Editor for the BMC Series and has been the Editor of BMC Psychiatry since July 2019.
Darren did his BA in Psychology at the National University of Ireland, Galway. Following this he did an MA in Criminology and Criminal Justice King's College London. After this he did an MSc in Neuroscience with Psychiatric Genetics at King's College London. He then did a PhD in Neuroscience in the Centre for Developmental Neurobiology, King's College London studying experience-dependent neural plasticity. Darren joined BMC in October 2018 as a locum editor after finishing his PhD and became a manuscript editor in March 2019.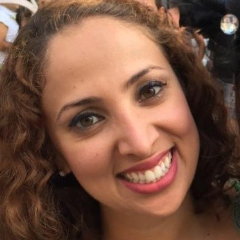 Ana is Manuscript Editor for the BMC series, and has been with BMC Psychiatry since September 2019. Prior to joining BioMed Central, Ana was a post-doctoral researcher at the University College Cork and the National Suicide Research Foundation developing a program to improve the mental health services and reduce the number of suicides in Ireland. Ana started her career in science investigating the psycho-pharmacological effects of plant extracts on animal models of anxiety and depression. She completed her PhD in Pharmacology with emphasis in Neuroscience at the Federal University of Santa Catarina, Brazil, investigating the effects of muscarinic receptor activation on adult hippocampal neurogenesis. Previously she worked as lecturer of Neuroscience, Psycho-pharmacology and Behavioural genetics to Psychology students in Brazil.
Kelda is Manuscript Editor for the BMC series, and has been with BMC Psychiatry since March 2020. She started her research career with a BSc at Bangor University, where she investigated how we use our hands and hand-held tools in 3D space. Kelda went on to do an MSc in Research Methods in Psychology at University College London. Following this, she did a PhD at Birkbeck, investigating somatosensory representations of the hands and feet.
Psychiatric molecular genetics
Dr. Cathy Barr, Ph.D. is Senior Scientist Hospital for Sick Children, Senior Scientist Krembil Research Institute, University Health Network, and Professor in the Departments of Psychiatry and Physiology at The University of Toronto. She joined the Editorial Board of BMC Psychiatry as Section Editor in 2011.
Dr. Barr completed her Ph.D. in molecular biology at the University of Texas, Graduate School of Biomedical Sciences (M.D. Anderson Hospital) in Houston, Texas. She then pursued her postdoctoral training in the genetics of complex behaviors at Yale University and subsequently at the Hospital for Sick Children in Toronto.

Dr. Barr's research is focused on the study of childhood-onset psychiatric and cognitive disorders and functional studies of associated genes including CRISPR/Cas9 editing of gene regulatory elements to determine the role of genetic risk alleles on gene expression
Eating disorders
Secondo Fassino, M.D., is Full Professor of Psychiatry at the University of Turin, Italy, where he instructs medical students and residents. He is a certified psychiatrist specialized in treating individuals with anorexia nervosa, bulimia nervosa, binge eating disorder, and personality disorders. He earned his medical degree from the University of Turin, Italy, where he also completed the residency in psychiatry. Since 2002 he is the Director of the Eating Disorder Center of the University of Turin, Italy. He authored and co-authored more than 150 articles and publications. He has been the Section Editor of the Eating Disorders section of BMC Psychiatry since 2011. His main clinical and research interests encompass: eating and personality disorders, psychotherapy, pharmacotherapy, psychodynamic psychiatry
Forensic psychiatry
Seena Fazel is a Wellcome Trust senior research fellow in clinical science at the University of Oxford, and a consultant forensic psychiatrist at Oxford Health NHS Foundation Trust, UK. His research focuses on relationships between severe mental illness and violent crime, and the mental health and suicide risk of prisoners. He has served on advisory boards for NHS research funding committees and the crime reduction charity NACRO, and given evidence to the UK Government Justice Select Committee and the UN-backed Khmer Rouge war crimes tribunal. He joined the Editorial Board of BMC Psychiatry as Section Editor in 2015

Causes, treatment and prevention of suicide
Ute Lewitzka is a senior physician in the Department of Psychiatry and Psychotherapy at the University Hospital Dresden, Germany. She is the head of the working group for Suicide Research.
Dr. Lewitzka graduated in medicine at the Technische Universität Dresden, Germany. She completed her doctoral thesis in neurobiology investigating neurobiological parameters in the blood of suicide attempters. From 2010 to 2012 she received a grant from Dalhousie University in Halifax, Canada and worked together with Prof. Anne Duffy at the Department of Psychiatry focusing on suicidality as it relates to the early course of mood disorders in youth and young adults.
Her current research focuses on the acute suicide-preventing effect of lithium in patients with affective disorders. She leads research projects such as an investigation about the attitude towards suicide in doctors, the impact of lithium intoxication on kidney function, the evaluation of possible suicide hot spots in Dresden and many others.
Dr. Lewitzka is a member of the board of the German Association for Suicide Prevention where she is connected to many stakeholders of suicide research as well as prevention in Germany. She also is engaged in an international lithium research group (IGSLI – International Group for the Study of Lithium-treated patients).
As a clinician-researcher, her goals are to identify key risk factors and intermediate pathways influencing the risk of suicide and suicide attempts among high-risk population (e.g. people with psychiatric disorders), which could then inform novel early prevention strategies. She joined the editorial board of BMC Psychiatry as an Associate Editor for the Mood disorders section in 2011, and became a Deputy Section Editor for the same section in 2012. She was instrumental in establishing the Causes, treatment and prevention of suicide section of BMC Psychiatry, which launched in 2015 with Ute as Section Editor.
Geriatric psychiatry and cognitive disorders


Dr. Joanne Ryan is a genetic epidemiologist who leads the Dementia Research Program in the School of Public Health & Preventive Medicine, Monash University. She holds honorary fellow positions at the Murdoch Childrens Research Institute (Disease Epigenetics Group), and Inserm U1061, France (Neuropsychiatry: epidemiological and clinical research institute). Her qualifications include a PhD in Neuropsychiatric Epidemiology (University of Melbourne, Australia and Université Montpellier 1, France), a Masters of Biostatistics (Monash University) and a Bachelor of Science degree with honours in Molecular Biology (University of Melbourne). Her research is focused on the identification of risk factors and biomarkers for later-life neuropsychiatric disorders, and is at the interface between biomedical and public health research. She is an investigator on a number of longitudinal cohort studies of cognitive function and psychiatric disorders, and leads dementia research in the ASPREE randomised controlled trial of >16,000 elderly. She joined the editorial board of BMC Psychiatry as an Associate Editor in 2014 and became a Section Editor in 2016
Florian Seemüller
Mood disorders
Dr. Florian Seemüller is associate Professor for Psychiatry at the Ludwig-Maximilians-University of Munich and Head of Department at the kbo-Lech-Mangfall-Clinics for Psychiatry, Psychotherapy and Psychosomatics in Garmisch-Partenkirchen and Peißenberg.
He joined BMC Psychiatry in 2008 and became Section Editor of the Mood disorders Section in 2010.
His research is focused on German healthcare, on short and long-term outcome of unipolar affective disorders, suicide research and on bipolar affective disorders. He started his scientific career within the Stanley Foundation Bipolar Network (SFBN) and is engaged in several international and national working groups: Lithium (IGSLi), German healthcare (VIPP), German Research Network Depression, Suicidality (GRNDS).
Personality disorders and disorders of adult behavior


Dr. Wei Wang is Professor of Personality Psychology at Norwegian University of Science and Technology, Norway. He joined the Editorial Board of BMC Psychiatry as Section Editor in 2011.
Dr. Wang completed his Ph.D. in Clinical Neuroscience at the University of Liège, Belgium. Later he successively joined the First University Hospital of University of Science and Technology (Formerly Anhui Provincial Hospital) in Hefei, China, the Zhejiang University School of Medicine in Hangzhou, China, and the Norwegian University of Science and Technology in Trondheim, Norway, for personality bases of neuropsychiatric disorders.
Dr. Wang and his crew members are focusing on personality traits and disorders, emotion components and disorders, dream experiences (nightmare and sexual dream) and disorders, and neurocognitive processes at cerebral and brainstem levels. His clinical researches involve the personality disorders, bipolar I and II disorders and schizophrenia and the like.